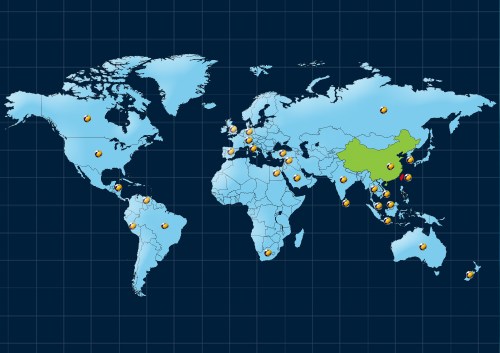 Quality is our priority. Therefore we have good relationship with our customers in the following areas:
Asia: China, Thailand, Singapore, Malaysia and so on.
Americas: United States, Canada, Brazil, Honduras, and so on.
Europe: Germany, Britain, Russia, Switzerland, and so on.
Oceania: Australia, New Zealand.
Africa: South Africa, Egypt, UAE.
Headquarter
ADD:No.432, Nanjing W. Rd., Datong Dist., Taipei City 103, Taiwan
TEL:(02) 2552-1170
FAX:(02) 2552-4940
Branch in Taichung, Taiwan
ADD:No.3, Fuxiang St., Xitun Dist., Taichung City 407, Taiwan
TEL:(04) 2462-9196
Branch in Tainan, Taiwan
ADD:6F.-2, No.250, Dong'an Rd., East Dist., Tainan City 701, Taiwan
TEL:(06) 275-5870
Taiwan Factory:
ADD:Taiwan No. 197, Sec. 3, New Taipei Blvd., Xinzhuang Dist., New Tauwan
China Factory:
ADD:No.98, Aigehao Road, Weitang Town, Xiangcheng District, Suzhou, China
TEL:+86-512-6599-5158
FAX:+86-512-6599-5665
www.fontal-china.com
SOMWANGSUB ENGINEERING CO., LTD.
ADD:67/22-24 Soi Petchkasem, Petchkasem Rd., Watthapra, Bangkokyai, Bangkok, 10600, Thailand
TEL:+662-467-2394-6
FAX:+662-467-2397
www.fontalthailand.com